Knock, Knock. It's an Avocado
July 28, 2022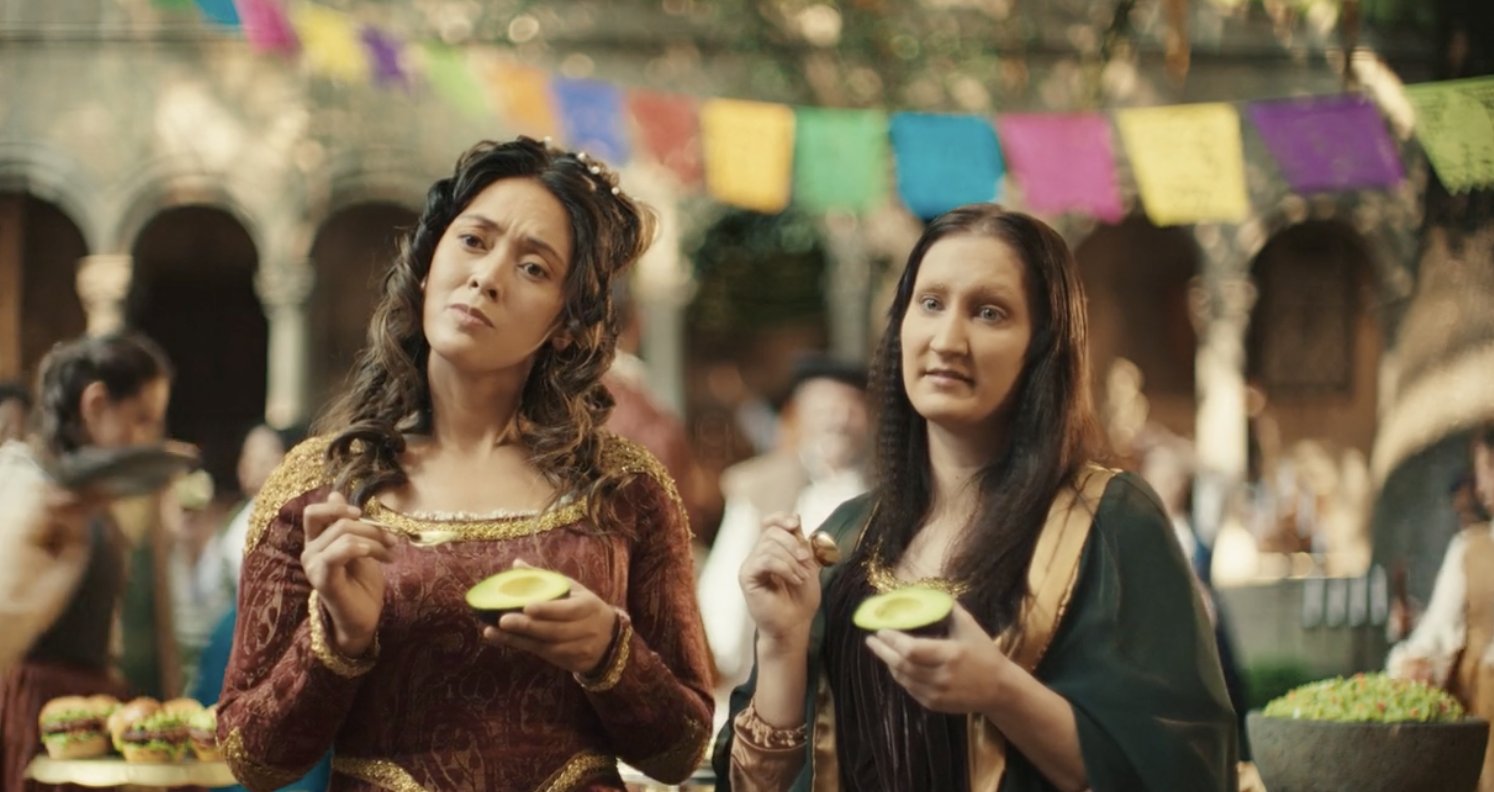 With a natural ability to find comedy in any situation, Woods has made a name for himself by elevating ideas of all sorts to their creative ideal. He was just the fit for the Avocados from Mexico project — a campaign that pushed writing and inspired out-of-the-box-thinking. Lady Eleanor put in a call and just like that… Director Chris Woods and Executive Producer, Sophie Gold, were in the door. After all, what's one big boss to another?
LIGHTS.
INT. BOARDROOM - DAY
CHRIS and SOPHIE are sitting at the end of a long mahogany table, across from them are BRAND PRODUCER and CREATIVE DIRECTOR.
A large "Avocados From Mexico" logo sits on the wall behind the head of the table.
BRAND PRODUCER
Well I gotta say... this seems like a great fit.
Sophie and Chris sigh in relief.
SOPHIE
I'm so happy to hear you say that, Chris and I couldn't be more excited to be in business with you all. 
BRAND PRODUCER
We're excited too! I hope the bidding process wasn't too nerve-wracking for you both.
SOPHIE
Oh not at all. 
CHRIS
Yeah, we're just glad to be on board. Speaking of which, I got a DP in mind who I think would be perfect for-
CREATIVE DIRECTOR
Whoa! Whoa! Whoa! Hold on.
CHRIS
I'm sorry?
CREATIVE DIRECTOR
WE think this is a good fit, but we don't have the final say.
BRAND PRODUCER
Yeah, that's up to the big boss.
CREATIVE DIRECTOR
And to be honest, he can be pretty hard to persuade.
A loud THUMP is heard from outside the room.
Everyone looks towards the door for a moment and then looks back. 
SOPHIE
Darling, you'd be amazed with what can be accomplished with the right British accent.
Another loud THUMP, this time closer.
BRAND PRODUCER
Trust me, he's tougher than you think.
A third THUMP, even louder than the last. This one shakes the room.
SOPHIE
Oh please, how bad can one guy be?
CREATIVE DIRECTOR
Guy? Yeah, about that.
The board room's doors forcefully SWING open to reveal a GIANT AVOCADO in a sport coat and jeans. JERRY, his assistant, stands at his side, taking notes.
He "walks" in short hops that violently shake the room when he lands, and makes his way to the end of the table.
He talks in a loud, gruff, Logan Roy-esque tone.
GIANT AVOCADO
And tell that bastard nine percent or he'll be dipping with salsa for the rest of his silly life! SPRITZ!
Jerry pulls a spray bottle from their belt and mists their boss.
GIANT AVOCADO
Ahhh that's the stuff! Alright, what are we doing here? 
BRAND PRODUCER
Well sir, we-
GIANT AVOCADO
NOT YOU! Them!
Everyone else looks around in confusion.
GIANT AVOCADO
Oh for God's sake. JERRY! Point at who I'm talking to.
Jerry cautiously points towards the Creative Director.
GIANT AVOCADO
No!
Jerry slowly starts moving his finger across the different attendees.
GIANT AVOCADO
No! No! No! STOP!
Jerry's pointing at Chris.
GIANT AVOCADO
(Said more like an accusation than a question)
YOU! Canadian fellow! Why do you deserve to represent my people?!
CHRIS
Well, I have a lot of experience directing comedy-
GIANT AVOCADO
So did Buster Keaton and he's dead! No good to us now. YOU!
Jerry points at Sophie.
GIANT AVOCADO
Good Jerry, you're catching on. You, what's your name?
SOPHIE
Umm Sophie. 
GIANT AVOCADO
Hmmm good name, interesting. 
SOPHIE
If you don't mind me saying-
GIANT AVOCADO
SPRITZ!
Jerry sprays him again.
SOPHIE
I think Chris could really knock this out of the park. He just shot a spot for Hanes that I-
GIANT AVOCADO
SPRITZ!
Jerry obeys.
GIANT AVOCADO
Sorry, this Winter air really dries me out. Continue.
SOPHIE
He's great at finding little moments of humor and knows how to make a spot look good without-
GIANT AVOCADO
Okay! I'm tired and I've heard enough. DOLLY!
An INTERN dashes into the room, wheeling a large furniture dolly. They grunt as they struggle to get the dolly's lip under the massive plant.
GIANT AVOCADO
C'mon son, use some elbow grease! This rind can take it!
Everyone else in the room stares at them in a mix of fascination and discomfort.
Eventually the intern is able to hoist him on the dolly and begins to wheel him out of the room.
GIANT AVOCADO
It was a pleasure!
Giant Avocado, Jerry, and Intern exit.
Beat.
BRAND PRODUCER
Congrats! You got the job!
CHRIS
We did?
LIGHTS.